Dancing is one of the most popular types of physical activities, which among other things gives a good mood and brings pleasure. That's why dancing is an ideal activity for those who are bored just to do sports. Below we will talk about other benefits of dancing for your health, psychological state, and social life.
Health


Dancing, like any other physical activity, has a positive effect on health. Dance movements improve blood circulation, rejuvenate the body. It directly affects the state of internal organs. Regular training reduces the risk of cardiovascular disease and colds. Dancing helps to raise the so-called "good" cholesterol (HDL) level and reduces the number of "bad" cholesterol (LDL).

Besides dancing helps to strengthen bones and as a result, prevents osteoporosis.

Flexibility


Development of flexibility and amplitude of movements is one of the ways of development for any dancer, regardless of the style of dancing. Most dancing lessons begin with a warm-up, which includes several stretching exercises. We can talk a lot about the benefits of flexibility and stretching, but here are its main advantages: improving body mobility, preventing injuries to joints and muscles, improving blood circulation, the improvement of coordination of movements.

Strength


Persons who dance train all muscle groups. The body of the dancer and his muscles grow evenly and proportionally, which in turn affects the figure. Dancers' muscles do not become as voluminous and embossed as, for example, weightlifters, but they have great strength and endurance. Just look at the so strong ballet dancers!

Keeping fit


During the dance, calories are burned. The more intensive and faster the dance moves, the more calories are burned. Therefore, if you tend to be full, the dance will help you spend time pleasantly while remaining in a good fit. In addition, many studies have proven that dancing helps control fat consumption.

Endurance training


Endurance is the ability of muscles to work harder for longer periods of time without fatigue. Dancing is a long time aerobic exercise, which also trains endurance.

Good memory


Of course, dances improve memory, as dancers have to memorize many different choreographies and do it quickly. Attending a lot of masterclasses, staging dances for performances, training new movements, and their techniques - all this requires constant concentration of attention and memory development.

Fighting the bad mood


It has been proved that movements to music contribute to the production of serotonin (the hormone of happiness), reduce stress levels, get rid of emotional tension.

Creative skills and thinking development


By dancing, you develop not only the body but also creative thinking. Moreover, improvisation is one of the most important parts of dancing classes. It also helps you to think outside the box and go beyond standard thinking. Improvisation also helps to go beyond the comfort zone, which also positively influences the level and ways of thinking and creative activity.

Beautiful gait and smooth posture


Choreography is impossible without grace in movements, which is grafted in the first lessons and over time becomes part of life. That is why dancers most often have a very smooth posture and a beautiful gait.

Good balance and coordination of movements


Performing some dance moves requires a high degree of coordination of movements and balance.

Communication and new contacts


You meet many new interesting and creative people in training. This is especially useful for children who are actively acquiring communication skills and are in the socialization phase.

Enhancing self-esteem


It is believed that dancing helps a person to reveal themselves, to express their feelings, to become more graceful and plastic. As a result, a person becomes more confident in himself, and this confidence is transferred not only to dance activities but also to everyday life.

So, if you are looking for some physical activity that will help you to be more healthy and feel better, you should try dancing. The benefits of pole, ballroom, classical, or street dances are obvious.

If you tried it and felt something from this list, please, write your impressions in the comments below.

Or if you have any benefits to add in this list, write it too. Because our editors' team thinks that there is an infinite number of benefits of choreography and dancing.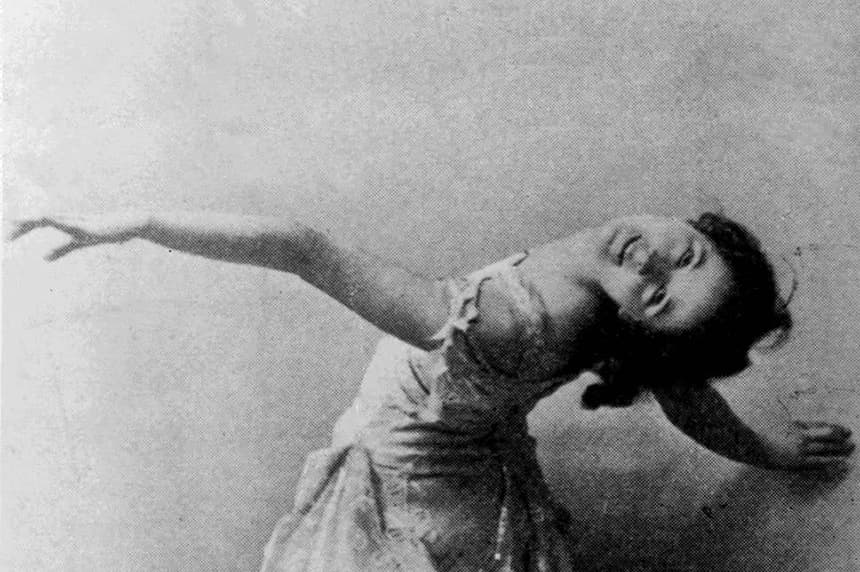 Isadora Dunkan
a woman whose name in the early 20th century was synonymous with dance.
"If you could explain something with words, there would be no point in dancing it."
Isadora Dunkan
is an American dancer considered the founder of free dance, the forerunner of the art nouveau dance.
Biography

Isadora Duncan was born in San Francisco in 1877 to Joseph Duncan, a banker. Born Dora Angela was the youngest of four children in the family. Soon after Isadora was born, the head of the family went bankrupt and the family lived in extreme poverty for some time.
The father soon left the family and the mother, Mary Isadora Gray, had to work hard to support the four children. But she used to say a lot: "You can do without bread, but you can't do without art." In their house there was always music, the family read a lot, played ancient tragedies. Little Isadora started dancing already at the age of two. And at six, she opened the first "school of dance" for neighboring children: teaching them the movements that she invented herself. At the age of 12, while giving lessons, the young dancer could already earn a part-time job. A year later she left school and devoted all her time to dancing, studying music, literature, and philosophy.
From childhood, Isadora perceived dancing differently from other children - the girl "followed her fantasy and improvised, dancing as she liked". Dreams of a big scene led in 1985, Duncan in Chicago, where she unsuccessfully went to auditions in different theaters, and then in New York, wherein 1896 the girl got a job with the theater famous critic and playwright John Augustine Daly. There she took ballet lessons from ballerina Marie Bonfanti. But Duncan is known for her denial and contemptuous attitude towards ballet. Ballet, according to the dancer, was just a complex of mechanical body movements that do not convey spiritual experiences. So, disappointed in classical choreography, Isadora moved to London in 1898 and then to Paris.
It was in Paris in 1901 there was a fateful meeting between Duncan and Lois Fuller (about which the dance film "La danseuse" was filmed and which later became the founder of the modern dance). Loi and Isadora had similar views on the dance, seeing it as a natural body movement rather than a rigid system of proven movements like in ballet. In 1902 Fuller and Duncan went on a dance tour in European countries. Together they created new compositions: "Dance Serpentine", "Dance of Fire", "The Divine Shoe". Duncan became very famous in the European cultural scene.
In 1903, the dancer went to Greece. There she initiated the construction of a temple on Kopanos hill for dancing classes.
In 1904 Isadora moved to Germany and opened her first dance school there and then another one in Paris, but it was soon closed down due to the outbreak of World War I.
Having become a widely popular and revered dancer around the world, Duncan continues to tour Europe, Russia, and America. She never liked it, she believed that the tour distracted her from her true calling to educate young dancers and create something creative.
Personal life

Duncan's personal life was filled with tragic twists of fate. But she, as a creative person, found solace in work and creativity, no matter what.
In 1904, she met the director Edward Gordon Craig, and a year later they have a daughter. But the happiness didn't last long. Craig, who never officially became Isadora's husband, returned to his former mistress.
In 1910, Duncan gave birth to a second child from billionaire Paris Singer. By the way, the heir to a vast empire of sewing machines needed a lot of effort to win the heart of an incredible and so famous dancer.
In 1913, both Duncan's children died tragically. The car in which the children were driving on a car trip fell off the bridge in the Seine. The doors in the water jammed, nobody managed to get out. Isadora went down in fever. She didn't want to live, her strength gradually left her. The doctors sent her inconsolable mother to the resort and prescribed complete peace.
1914. Having become pregnant with the third child by Italian sculptor Romano Romanelli, Isadora also found no consolation: the child died a few hours after birth.
Then Isadora realized that she was not meant to be happy, that her destiny was loneliness. From now on, work is the only thing that holds her back in this life. There is a new detail in the dancer's stage image - a long red scarf that stood out like a bloody wound against the white tunica. It symbolized the wound that was not healing in her heart.
In 1917, 6 of the first Duncan students were adopted by her and were given the name Duncan. This was done so that during the tour to the U.S. there were no problems associated with the German origin of the participants in the tour.
In 1921, Isadora met Sergei Esenin, a famous Russian poet who was 18 years younger than her. It was a bright and discussed love affair because despite the language barrier and age difference the couple was madly in love. At first, they lived in Russia, but soon Duncan had to go on tour to America. To go abroad together, the couple got officially married in 1922. While they lived in Russia, the relationship developed perfectly. But abroad Esenin stopped writing, began drinking, and most of all he was annoyed that no one here knew him as a poet Esenin. Marriage was officially dissolved in 1924, although a couple separated earlier: Esenin left Duncan and went to Russia in 1923. Two years after the divorce, Duncan received the news of Esenin's suicide, which also left a sad trace in her soul.
Fact!
Duncan was bisexual. For example, after Esenin, she had an affair with American poetess Mercedes de Acosta - about this relationship learned from the letters that the girls wrote to each other.
Death

On 14 September 1927, at the height of her fame, the dancer was to give a concert in Nice. A legend that became famous later said that a moment before getting into the car, Isadora exclaimed to her fans: "Goodbye, friends! I'm going to glory!". The driver touched the car from his seat, but neither he nor the dancer noticed that a long red scarf wrapped around her throat caught the rear wheel axle. After stretching out, he literally strangled Isadora Duncan. The body of the great actress was cremated and the ashes were buried in Paris' Per Lachez Cemetery.
Dance Heritage

Virtually no video recordings of Duncan's dance remained, because the dancer herself believed that the dance could not be recorded, that this is a specific energy that exists right at the moment of the dance.
There is still a perception that Isadora went into some kind of trance and improvised when she came on stage. That is certainly not true. According to a June Layson research, Duncan staged almost 223 dances + 20 in "Iphigenia", of which 176 for herself, 47 for the students.
Innovations introduced by Duncan:
The barefoot dance - nobody recognized barefoot dance before her.
Light Tunic - Duncan always said that dancing should be about nudity, and tunic helped to show the contours and shape of the body.
Music by "serious" composers. Whereas previously ballets and dances had been put on special music by special composers, Duncan chose music by "serious" composers.
Cancellation of the corset. At the end of the 19th century, women still wore corsets, but Duncan believed that a corset ugly the body and its shape (including in everyday life).
The emancipation of the woman. Duncan fought for a woman's right to live the life she chooses.
A lot of people say that Duncan didn't have the technique. In fact, her dance has certain common features, which can be called a Duncan technique.
Component technicians:
solo dance (she was the first one to dare to go on stage without an entire troupe of artists);
running;
jumps;
steps;
flowability of movements (one movement flows from another);
pantomime;
expressive gesture.
The origins of Duncan's choreography:
Antiquity;
Renaissance;
German romanticism;
Symbolism;
Modern;
the dance of the future (the dancer really forced the concept of the dance of the future, because if we now read her essay, published in 1903, we understand that all her prophecies have come true, that the dance really exists for life, the dance somehow corresponds with the forms of the one who moves, etc.).
Dance of the Future Concept

Duncan has developed his own philosophical views. She believed that learning to dance needed everyone to make it a "natural state" for people. Under the influence of Nietzsche's philosophy, Duncan wrote the book Dance of the Future.
According to her beliefs, it is in the dance that a person is able to express his highest ideals and the process of his own formation as self-overcoming. For Duncan, dance is an affirmation of life, health, sensuality, an expression of life's impulse.
The main requirement of Duncan is to radically reconsider views on dance, to recognize it as a "high" kind of art, to use symphonic and opera music, to express spiritual impulses through dance. The ideal of Duncan becomes the dancer of the future - a new harmonious man, living in harmony with nature, with his soul and space. The beautiful movements of this new man should express the impulses of the soul and correspond to the forms of his body. Dance, as Duncan thought, is not an exercise and pirouettes, it is an exaltation of life, theopractics, it is an alternative to the word means to generate ideas. The movement, as she thought, does not need to be thought up, it needs to be invented.
She thought nature was the source of the dance. But Duncan also saw nature in a philosophical way. She learned to observe nature: the movements of waves, clouds, trees, and always sought to bring in his movement a little divine sequence that is inherent in nature.
Another interesting statement by Duncan: "Will is expressed through the use of gravity". That is, Isadora, denying the unnatural forms of ballet that struggled with gravity, on the contrary, believed that one should feel one's body, used earth, and gravity to express one's dance and form.
For her, dance is not only an art but also the basis of a whole concept of life, more refined, natural. Duncan brings morality, beauty, and health to dance. Beauty as understood by Duncan is truth and harmony.
Sources:
June Layson "Isadora Dunkan: A Preliminary Analysis of Her work" Dance Research: The Journal of the Society for Dance Research.
Here you'll find the fullest information about dancing contact improvisation, its history, rules, exercises, and many others.
What is it?
Contact Improvisation (CI) – is an improvised dance form that is based on real-time communication and a point of physical contact between two people or more. Dancers improvise in physical contact using elements of dance, acrobatic and martial arts.
It's better to see once than try to understand through the words:
So the two main elements of CI are:
physical contact (can come in the form of leaning, pushing, falling, lifting, etc.);
improvisation (evolving of the dancing is unexpected and surprising, the dancers can't prepare for it and the next step demands the full dancers' attention).
CI can be used just as searching for material to choreographies but it is also a kind of social dance form.
History

To understand the whole idea of CI, let's take a closer look at the history of its origin and development.
CI is quite a young direction in the art of free dance. 1972 was the year Steve Paxton founded contact improvisation. In January of this year, together with several male students at the University of Oberlin, he presented a 20-minute, first in the history of CI, dance performance "Magnesium". The performance consisted of unexpected things: participants constantly collided, threw each other, jumped, rolled on the floor, and on each other.
A few months later, Paxton assembled a laboratory of 15 people. They researched the movement and found ways to interact with partners. Initially, they studied how the body works, how gravity works, the physical capabilities of a person, how the human body reacts to living situations (falls, collisions, danger, etc.). Paxton's first works in contact were different from the further development of CI: movements were faster and more unexpected.
Over time, the feeling and the flow of movement became longer. It was more time to feel what was happening.
At the beginning of the CI movement, performance participants almost never used music. The point was to listen to "music" that comes from within you.
They took away everything we think is a dance, and the dance stayed. What does it consist of? It turned out that there are a lot of things in it: the physics of the human body, its interaction with the laws of physics - earthly attraction, acceleration, centrifugal force... There is also the anatomy of movement and what is born in people when they meet. A huge space for research was found.
Then they started experimenting: what happens if you don't make the body dance, but see what it can do on its own? And they discovered that there is a dance that it always performs, and they called it the "small dance". When a person is standing, as it seems to him, motionless, millions of small reflex inclusions work in the muscles, which we have almost no control. The body is constantly balancing relative to the state of equilibrium so as not to fall. The body is dancing!
Then they began to investigate what happens to a person during a fall, landing, jump, how to make support without making too much effort, and so on.
As a result of the research, the group presented a new performance, which Paxton called "Contact Improvisation". The dancers performed at John Weber Gallery in Manhattan, during the broadcast of the film by George Manupelli, Dr. Chicago.
After presenting this work, the band members began touring in the states and Europe and practicing CI with new members, spreading and popularizing this movement. Among Paxton's supporters were quite famous dancers at that time: Kurt Siddal, Nancy Stark Smith, Nita Little, Karen Rudler, and others.
However, Paxton didn't standardize and formalize this form of dance in any way. Leaving the CI system open, Paxton allowed the CI to evolve and the participants to bring something of their own into the improvising dance.
Today, contact improvisation is danced in the form of a performance or in the form of "jams", where people can both participate in the dance and act as spectators, and change roles at any time.
Features, rules, forms

Despite all its freedom from rules and requirements, contact improvisation still has some specific features and several techniques. But these techniques do not limit you, but rather provide a basis for interaction between partners.
We can say that CI is a dialog, the dialog between two people, sometimes even strange. And it begins from listening to each other without having asked to add anything to it, without thinking, planning, or navigating. There is a flow of information between them.
It includes physical information like a weight but also sensory information like fear and excitement.
Physical information

Contact improvisation is opened for a physical exploration that consists of weight sharing, losing and regaining balance, playing with momentum, and other surprises. Through touching and searching for common trajectories, contact improvisation explores concepts such as support, giving and receiving, following and resisting, balance, taking responsibility, and finding a solution
Adults can learn contact improvisation from children. They can move without mental restrictions:
Among the CI techniques, it is worth noting work with bodyweight (transferring the weight of your body to another person and taking the weight of the other person on yourself):
rolling on the floor (rolling on the floor and on each other's body);
low table (when one of the dancers stand on his fourth and another dancer rolls on this "table" as he does it on the floor);
hight table (it's the same low table but the first dancer stands on his legs and tilts his body forward);
side lift (the partners are on each other's sides, one of them holds a hand on the other's lower back and lifts it with the strength of the supporting leg, raising the other leg like a pendulum; the other partner tries to transfer his weight smoothly).
This is not an exhaustive list. There are so many kinds of communication between partners with the help of the body in CI.
Despite the fact that some performances resemble acrobatics, CI is fundamentally different from acrobatics. CI partners try to perform elements with the least effort, that is, with the application of minimal physical strength. The partners' attention is focused on how to get into a "comfortable" position or use the impulse so as not to use muscles or use them with minimal force.
Sensual information

In CI we give and receive information at the same time. So partners always try to understand each other without any words. And it's not only about physical contact, but it's also about understanding the intent of any movement.
CI is about the moment, it is about what is happening and any thoughts. Plans and other stuff may cause dancers to lose this contact and maybe to miss out on an opportunity to ride on the right way. And on the other hand, the intent will help these people to stay together.
An important part of improvisation is to allow what is happening now to happen. This means not thinking about what will happen in a few seconds, but being right in the moment.
Despite the fact that Paxton and his followers initially studied motion physics, later some of them began to talk about the inseparability of body and mind. This gave rise to the study of physical action as an analog of communication between people in real life. For example, the ability to give one's weight or support another corresponds to the ability to trust others and support others in the daily routine of communication. This space provides connecting with other people in a way that isn't possible anywhere else.
Rules of CI space

Safety is the most important principle in the framework of CI because, without a sense of security (both physical and mental), no other principle in this direction will work.
In light of the above, CI is a place without judgment. It means doing something mutual without competition, without a fight, without thinking about who is the winner and who is not.
You don't need shoes.
You don't need to follow so strict rules.
Use the whole body.
One of the basic rules that participants in CI groups must follow in order to avoid injuries during work is to do the warming up the body and stretching at the beginning of each lesson. And you should avoid rolling over and give weight to your partner's knees, ankles, and head.
Benefit of CI

CI has a positive effect on the human body, develops and heals it, gives it flexibility, plasticity, strengthens and stretches muscles, fills the body with lightness and vitality. Participants acquire the ability to listen, hear, and understand their own body, which allows them to open up more and act naturally, using movements more effective and less energy-consuming.
In psychological terms, regular attendance at CI classes allows a person, firstly, to learn to trust other people to a greater extent, secondly, to learn to take responsibility for another person, thirdly, to learn how to work, act in pairs, and, in fourth, to unleash your own creativity.
Conclusions

CI is a spontaneous dance form that involves two bodies in motion and is built around a point of contact with a partner. Each such contact and performance is something unique, something that is born here and now. It's the magic of CI and its uniqueness. In search of choreographic material, you can find yourself, contact with the outside world, support, or the ability to "speak" by your body.
So if you have the opportunity to try out the CI on yourself, feel free to try!
And then write in the comments how it is to you.?
For those who want to know more about CI:
Stephen Paxton's video lecture from the conference at Culturgest, Lisbon 2019​:

link to the specialized magazine on improvisation and dance, which has been published since 1975:
Contact Quarterly
The profession of a dancer requires constant work on himself and his body. Whether you are a professional dancer or a student in a dance class or dance college, you will always have to improve your skills. So what do you have always to do to become a better and better dancer every day? We'll tell you some tips in the article below.
Watch the other dancers dance.

Watch the video of others dancing. Pay attention to detail, plasticity, choreography. Over time it will diversify your dance vocabulary and may even help to form individual and special plasticity. Also, paying attention to other dancers, you develop your own dance taste and ideas about the world of dancing.
Shoot yourself on video.

Without seeing yourself from the outside, it will be difficult for you to evaluate your progress and technique. Also, be sure to practice in front of the mirror. But even better, videotape yourself periodically. From the outside, you can often see what can be improved in the technique of a particular movement.
Practice often.

Frequent and regular training is the key to your progress. Don't be overworked, but work out every day as much as you can. If you can't dance in the studio every day, then dance at home on days free from studio training. No room? Practice separate movements. Look for an opportunity, not an excuse. This quality is definitely useful for you if you want to be a successful and professional dancer.
Attend the masterclasses.

To learn from a good choreographer or dancer who came to your city is an opportunity that is simply not to be lost. Usually, these masterclasses give you much more than a few months of regular training. This is because top dancers and choreographers with a lot of experience come to the masterclasses.
Try training with different coaches.

In addition to masterclasses, try classes with different coaches. Everyone has a different approach to teaching, different style, and plasticity. This variety is sure to benefit your body.
Set specific goals.

It's cool that you want to be better than you are. But it's not very effective if you don't set specific goals. Such a goal can be a victory or a prize in competitions, participation in battles, appearances in public, getting a job in ballet, organizing your group of dancers, etc. Goals may also be short-term, such as learning to spin on your head if you are a b-boy, or learning the attitude (the main pose of ballet) if you're a ballet dancer. In this way, you will be able to track your progress, and achieving your goals will inspire you to win even more.
Take part in competitions and battles.

Dancing in public is a completely different feeling than in a training class. Performances train artistry, the ability to express emotion in dance, as well as tell a story with your body. Competitions and battles bring up a sporting spirit and competitive enthusiasm.
Communicate with other dancers.

Sharing experiences, the opportunity to train together, an objective view from the outside - all these are the benefits of communicating with other dancers. Yes, sometimes you may meet an adversary who will not be sincere with you because of competition or other selfish feelings. But in most cases, the dancers around you can help you became better every day, and you can help them in this too.
Find people from whom you can get quality feedback.

Ask your coach for advice, ask him what you are doing right and what you are not. In addition to coaches, you can talk to friends and family, even if they have nothing to do with dancing. You will at least get a boost of motivation and support from them.
Give 100% in training.

Take ALL from every training. Be serious, listen carefully to what the coach says. Repeat the movements after the coach over and over again, because the more practice you have, the faster the result will be. Why come to the training if you do not plan to do everything you can on it?
Keep the body toned.

It's a set of actions - work out, eat the right food and sleep enough. All this will make your body always ready for exercise, strong and healthy. Every day it works hard to be better for you. Do something for your body in return - make sure that your body is nourished with quality micro- and macronutrients, and that you recover sufficiently while you sleep. It's also a big plus for you if you keep your muscles toned by training in the gym or jogging if necessary.
Ignore the haters, but don't be seduced by compliments.

Negative in this field of activity can not be avoided, it is important - do not pay attention to him. Constructive criticism from professionals and experienced specialists, of course, is important. But if we are talking about envious people, then you should not be upset about their opinion. As for praise and compliments, they are, of course, very pleasant. But the main thing is not to stop at what has been achieved.
Do not ignore fatigue, pain, or even minor injuries.

Take care of your body and make sure it's healthy. If you feel pain in any part of your body, do not ignore it. Tell your trainer, or see a doctor immediately. Any injuries, even the mildest, can lead to serious and severe consequences.
Don't compare yourself to others.

Nobody's born a dancer. Yes, some people are more inclined to learn, some people learn easier or faster, some people have good ears, then they get rhythm quicker but nobody's born with coordination. That's a skill that has to be developed.
Do not give up!

This is one of the most important tips for all dancers, both beginners, and professionals. Never give up, no matter what. Take challenges with pride, and also be confident in yourself. And you will succeed!
Write what you think about these short tips below in the comments.
Perhaps you have something to add, we will be happy to supplement this list with useful tips.
And if our advice has helped you in any way, we'd be very happy to hear about it.
Dance and grow with DanceBibles.com!
Contemporary dance is a popular dance direction characterized by plasticity, emotionality, variety of movements and techniques. Today, this dance has huge popularity. Its active popularization and development began only in the 80s of the last century. Even the word "contemporary" only then began to be used exactly as the name of the whole direction in dance. But you should understand that this style of dance appeared much earlier. Let's find out - when?
Theories of Origin

We don't know exactly when the Contemporary dance came out. That is, it is not clear who and when he first started dancing, inventing movements and techniques. There are several theories that are based on the similarity of certain techniques to others.
So, there is an opinion that contemporary dance came from Eastern practices, in particular from yoga and some martial arts. This is explained by the special technique of breathing in a contemporary, which is also inherent in yogic breathing. It's also important for the contemporary dance to have a stable position, balance, smooth transition from one movement to another, which is also very typical for yoga. So one cannot help but think about the similarity of these two types of physical activity.
Contrary to the previous theory, some historians argue that the emergence of contemporary dance is directly related to either Central America or European countries.
Alternative to classical ballet

What nobody denies is that the contemporary appeared as a result of the denial of classical ballet and its canons. Ballet is a rather structured system of movements with strict rules. Contemporary dance has become a kind of opposition to everything classical, because of its free, expressive and natural character.
It should be noted that the classic base of a contemporary dancer is often an undeniable advantage in terms of physical fitness and capabilities of the body.
Founders

The mother of modern dance, free and sensual, is rightfully considered Isadora Duncan, although contemporary dancing got its popularity even 30 years after her death. It was she who began to contrast the sharp lines, strict choreographic movements and standardization of poses in favor of free, natural dance, which expresses sincere emotions and feelings.
Isadora has established a tendency to dance barefoot. She was not interested in inventing new pas, but in creating a new worldview - light and joyful. This feeling was fully conveyed through her dancing and performances. She talked so much about "liberation from conventionality", about "free spirit in a liberated body" that her art was eventually dubbed "free".
Authenticity and individuality, the manifestation of personal feelings of the dancer - these signs became the main in determining the modern dance according to Duncan and her followers. The ballerina's frozen smile has disappeared, and she has been replaced by sincere emotions and feelings.
Attention!
It is also worth noting the significant influence of the idea of freedom of movement and expression of feelings in dance on classical ballet dances. Even the academic ballet could not allow a "soulless" gesture after Duncan.
Martha Graham (1894-1991)

Although Isadora and her dance were quite popular, contemporary dancing has gained more popularity thanks to Martha Graham. This dancer, who introduced and widely popularized contemporary dance to a global audience.
М. Graham excluded imitation of movements, teaching independent plastic thinking and expressiveness of gestures. For this purpose, she used the technique of contraction and release, according to which the movement originates from the center of the body where breathing is concentrated (diaphragm).
Graham has introduced into modern dance all known to this day bases:
Breathing techniques: when exhaled, the diaphragm shrinks, directing the movement inside; when inhaled, it expands, the movement spreads in a spiral upward through the torso, arms, neck.
The movement must cover the entire space, that is, the dance takes place standing, sitting and on the floor (parterre).
The dance completely covers the whole body, all parts of the body are used.
More complete use of space through movements on the floor.
Merce Cunningham

Merce Cunningham worked with M. Graham's troupe in 1939-45. In 1952, he formed his own troupe. He believed that the emotional element should be brought to choreography by the spectator, not by a choreographer or a dancer. His aesthetics were close to the theatre of absurdity and aleatoric in music. Cunningham has staged performances of both the Art Nouveau Dance and the European Classical School in many European and American companies, particularly the Paris Opera.
Pina Bausch

The German dance theatre in the Pina Bausch version becomes the third source of all modern culture with modern dance. She has been working as a choreographer since 1968, thanks to which she creates the Wuppertal Dance Theatre. She has not only transformed modern dance but has also created a new genre: dance theatre, a system in which words, music, and movement exist on equal terms. Many of the things that exist in the field of dance theatre today owe this genre to Pina Bausch.
Present days

Today, contemporary dance is a popular dance around the world. Such dancers and choreographers as William Forsythe, Alain Platel, Steve Paxton (creator of contact improvisation), Wim Vandekeybus, Itzik Galili, Meg Stuart, Ruth St. Denis, Boris Charmatz, Anne Teresa De Keersmaeker, Sasha Waltz made a significant contribution to its development and popularization. They and many others are the authors and ideologists of modern free dance - contemporary dance. To these people, we should be grateful for what we see and enjoy this amazing dance exactly as it is.
This may be interesting to watch:
Books about the history of the Contemporary:

Steve Paxton "Gravity" and "Trisha Brown: dance and art in dialogue, 1961-2001";
Driver S. William Forsythe "Chur: Harwood Academic Publishers", 2000;
Susan Rosenberg "Trisha Brown: Choreography as Visual Art".
So, what do you think about the future of contamporary dancing?
Let's talk about it in comments bellow.