The dance floor is very demanding. Including women's hairstyles. This demand applies both to the rules of dance competitions, and the ability to show your image in detail. Moreover, agree, a suitable and comfortable hairstyle is very important for the quality of your dance and performance.
Certainly, there are different requirements for costumes and hairstyles for different styles of dance. For example, ballroom dancing competition rules require the strictest possible hair in the form of slicked-back hair. Dance competition hairstyles can be formal or casual and can be styled in many different ways. For a formal dance competition hairstyle, a dancer should make sure her hair is neat and tidy. The top section of the head should be pulled back from the face with either a clip or elastic band. For an informal dance competition hairstyle, any style that doesn't damage the hair will do such as braids.
Nevertheless, in this article, you will find a variety of ideas and examples of many different hairstyles. Here are some suggestions on hairstyles that will work well with your hair and costumes. Many of these can be done in a hurry, so don't worry about spending a lot of time on them.
Twisted Bun
The bun is a classic dance hairstyle, which is suitable for ballet classes and for other styles of dance. Let's see how you can diversify this hairstyle for dance competitions and classes.
This is a pretty and easy updo that looks great for many different dance styles. But when it comes to ballroom dance competitions this hairstyle is the most popular there. No wonder - it's easy to do, and it looks more beautiful and original than a usual bun.
Pull the hair into a ponytail. Choose your own height of ponytail. Separate the hair into three parts. Lightly gel each strand to make it easier to twist. Then slowly twist it around itself. The more you twist the strand, the less voluminous the bun will be. Then you can twist the strand around the ponytail and secure it with a bobby pin. Do the same with the rest of the strands. The more pins the better! It is hard to be very specific here since everyone's hair is different. But it's important that the bun holds very firmly during the dance!
Pass the Ponytail
You'll need hairspray, a comb, an elastic band, and a couple of minutes for this procedure. This style works well with most kinds of costumes and performances, including jazz, ballroom (if your hair is not too long and thick), contemporary, disco, and so on.
Separate all of your hair into a high ponytail and a lock of hair at the base of the ponytail. Pull the hair back to make a single ponytail in the middle of your head. Secure with an elastic. Separate one of the locks and wrap it around the elastic securing the ponytail. Secure it with a bobby pin. This will cover up your hairband and give a more finished look to your hairstyle.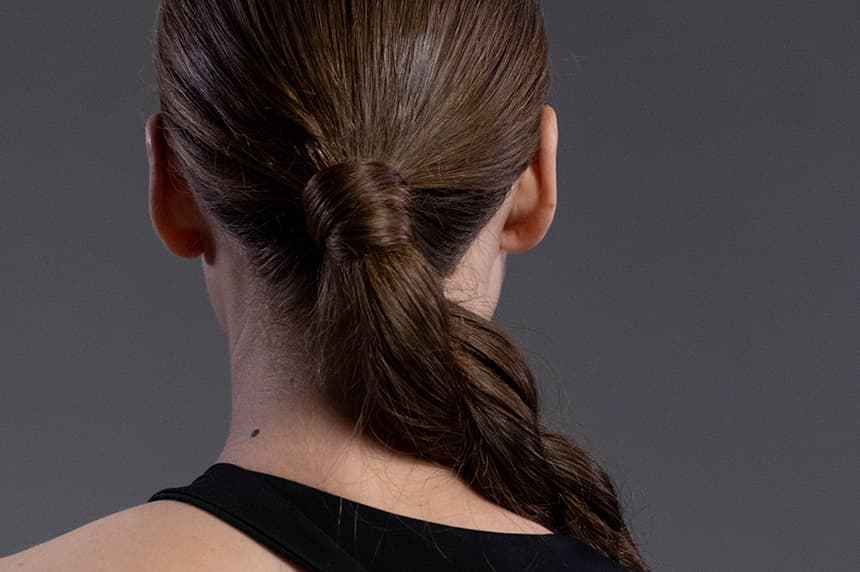 Bouffant
This hairstyle is cute and easy to do! You'll need hairspray, a comb, an elastic band, and one minute for this style. Pull all of your hair back into a ponytail. Brush it very well till it is completely smooth and free of knots and tangles. Then put the hair up in a high ponytail and secure it with an elastic band. Slightly tease the hair Spritz the teased part with hairspray to set it.
Naturally, hardly such a comb is suitable for the ballet stage or ballroom competition. However, for less conservative dance routines, a comb and voluminous ponytail will look just fine!
Important! Older dancers are allowed more freedom in terms of hairstyles. Styles for young ballroom dancers should be as simple and elegant as possible.
French Twist
The French twist is a classic hairstyle that is perfect for any dance competition. It is a very simple style to do, and it will make you look very elegant.
To do the French twist, start by gathering all of your hair into a high ponytail. Then, take the ponytail and twist it around itself until it forms a tight coil. Secure the coil with a hairpin. Then, take the remaining hair and wrap it around the coil until it is completely covered. Secure with additional hairpins.
Bantu Knots
Bantu knots are small, twisted, decorative hairstyles that can be created on natural hair. They are named after the Bantu people of Africa, who are known for their elaborate and creative hairstyles. Bantu knots can be created on any type of natural hair, including curly and kinky hair. They are a great way to add texture and volume to your hair, and they can be worn in a variety of styles.
Separate all of your hair into two symmetrical parts. Then separate your hair into more parts depending on how many Bantu knots you want to twist. Take a strand from the first section and twist it into a rod shape by rolling the hair around your finger. Secure the tip of the Bantu knot with a bobby pin. Do this to all of your hair in each section. This is a cool hairstyle idea for hip-hop, breakdance, or other street dance styles. You can also braid Bantu knots if you are a disco dancer. Well, why not!
Low Chignon
A low chignon hairstyle is a bun style where the hair is gathered low on the back of the head. This style is often used for formal occasions because it is both elegant and formal. This hairstyle is also often used for dance competitions because it stays in place and does not move around a lot. This is important because when you are dancing, you do not want your hair to be in your face or flying around.
To do a low chignon hairstyle, start by gathering your hair into a low ponytail. Next, twist the hair around the ponytail holder to form a bun. Tuck any loose hair underneath the bun and secure it with pins. Finally, spray the hairstyle with hairspray to hold it in place.
Dutch Braid
A dutch braid is a type of braid that is formed by crossing the middle section of hair over the top section and then crossing the left section of hair over the newly-formed middle section. The right section of hair is then brought over the new left section. This process is repeated until the braid is completed. As the dutch braid is elegant and stylish, it stays in place well, it is a popular hairstyle for dance competitions.
Fishtail Braid
A fishtail braid hairstyle is a type of braid that is created by crossing two sections of hair over each other and then weaving them together. The braid starts as a normal french braid and once you reach the end, you flip it upside down and weave the two sections together.
A fishtail braid hairstyle is often used for a casual look, but can also be styled into a more formal hairdo. You can make your fishtail braid as long or short as you want, but it's usually worn halfway down your back. This hairstyle is fairly easy to do on yourself, but it can be difficult to get the hang of at first.
The fishtail braid is a versatile style that can be worn for many occasions, including dance competitions. It's a good option because it's not too formal or too casual, and it can be styled in many different ways. You can make your fishtail braid as tight or loose as you want, and you can add accessories to make it look more special. If you're looking for a dance competition hairstyle that is easy to do and looks good on everyone, the fishtail braid is a great choice.
Small Curls
A striking choice for the competition is the hairstyle with goffer curls. It creates the illusion of a beautiful wave in the style. The size of the curls and their density depends on the choice of tool attachment. Hairstyles with crimped curls look chic and make the dancers stand out from the crowd.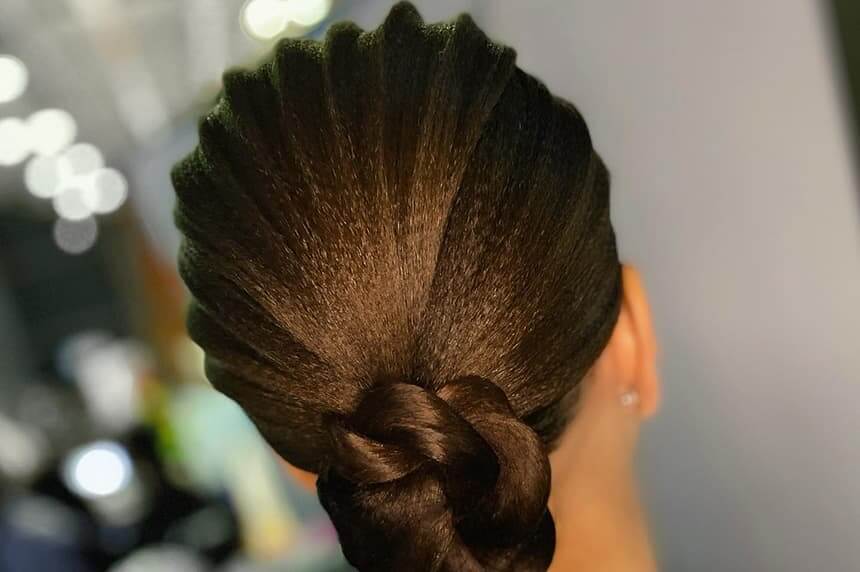 Mixed Hairstyles
Final Words
There are many different types of dance hairstyles that can be worn during competitions or classes. Some of the most popular hairstyles include the twisted bun and the pass the ponytail. These hairstyles are easy to do and they stay in place, but you can style them differently if you want your dance hairstyle to be more unique. Another great option is the Bantu knot. For a formal look, try a low chignon or fishtail braid; both styles look elegant and will stay in place. You can also style your hair into an updo if you want to keep it away from your face and neck, but you still want to look stylish. If you're looking for a new dance hairstyle that is special and easy to do, try one of the hairstyles above!
One of the biggest benefits of taking aerial fitness is that it's fun for all involved. While adults may take pole dance as a form of serious exercise or performance art, kids are generally just interested in having fun. Aerial classes allow them to play with gravity and their own strength in a fun and exciting way that they can feel great about.
Aerial arts is a relatively new art form, and many studios are still learning what works best for children. It's important to speak with the instructor before enrolling your child in any classes to make sure that their level of fitness will be appropriate, you will both understand the goals for the class and how to accomplish them, and that you can communicate any issues or problems. If your child is already incredibly physically fit, the instructor may be able to provide more challenging options for them so they don't get bored and lose interest.
You will also be interested in: